CHANGE OF OWNERSHIP: Since 18 June 2018, Ratings Preview for YouTube™, including the Chrome and Firefox browser extensions, is no longer owned by Cristian Perez. Any update after 6.1.2 will not come from me.
Back in 2011 when I first built this extension, it completely changed me as a developer. Seeing that I could create a useful piece of software with such a huge amount of very happy users made me decide to dedicate myself to exactly that. Selling it was a harsh decision, but I still want to pursue my dream of living out of a piece of software I developed and own, and I no longer have time to take care of the extension. Also, money is running low.
As a final effort, I will create an open source repository for a newly named Like Bars project. It will include all sources for the browser extension, as well as setup instructions for out of the Chrome Web Store installation. This way the community will have the chance to maintain the extension and the users will not have to trust anyone for its use. Expect it soon on GitHub.
Finally, I wanted to give special thanks to all the donors who supported me throughout these years. The excitement and emotional support you provided me has been of more value to me than the actual money. For this reason, I'm offering a full refund of the donation to anyone that feels like is now entitled to it. Just let me know your PayPal email address and the date of your donation.
Thank you,
Cristian Perez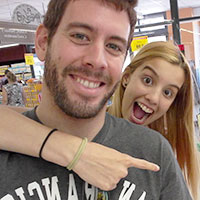 Hi! I'm Cristian, the author of Ratings Preview! That's me and my girlfriend Nerea in the picture. As you know, this software is free to use, although it requires plenty of my time to maintain it.
I have a full-time dedication creating useful software for people and, even if I really enjoy it, I depend on donations. If you want me to keep maintaining Ratings Preview and other software, please donate. You choose how valuable it is for you (move the slider to select the amount!):